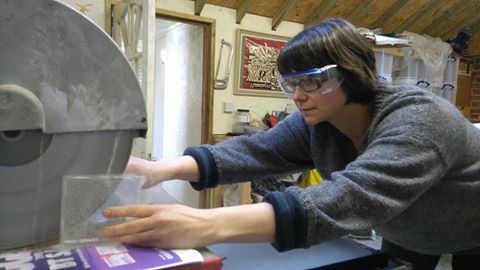 I studied Sculpture at Sheffield Hallam University using mixed media and graduated in 2002 with a B.A Hons Fine Art Sculpture. Since then I have been painting whilst bringing up my three children in Norwich. I am now concentrating on sculpture in glass using the lost wax casting (using 'Pate de verre') technique.
For the last couple of years I have been working with my father, glass artist David Reekie, as an apprentice/labourer and have been producing my own work.  I am an active member of the Contemporary Glass Society, exhibiting work in their online exhibitions and have also been picked to exhibit my work in a few of their selected exhibitions. At the same time I have work in other UK commercial galleries.  These are listed on my gallery page!
My body of work reflects my family life; these mischievous, colourful glass sculptures have evolved from drawings inspired by playing with my children. I want my work to be bright, childlike, and playful, each piece subtly hinting at the emotions, feelings and thoughts I have in day to day life. The trolleys are carrying objects, found or made by myself, to represent certain chapters in my life. I would like the viewer to be drawn to the sweet, cheeky individual characters of these mice and hope they raise a smile!
With my more recent work, I have incorporated found objects with my glass mice. I like to use old discarded or found items which have an unknown history and a story to tell. Finding these objects gives me inspiration and ideas for my work. Transforming them into a pieces of art, changing their purpose and giving them a new lease of life. In doing so, I want my pieces of sculpture to tell their own stories.
'Protesters': Morag & David Reekie.
In this short series of work, David Reekie and Morag Reekie, a father and daughter team, have collaborated around the idea of protesters and some general themes of protesting in today's society.
In these four pieces we have combined glass making techniques that each of us has developed over the past few years. We have also combined our modelling skills and a shared use of colour whilst working on these figures.
Their spiky appearance indicates their anger at the society around them and the placards show the reason for their distrust of government and the establishment at this present time.. These are figures that are hard to handle and control and they want things to change!
'Three Blind Mice'
My work is generally inspired by the strong feelings and frustrations I have about the society we live in, feelings which are seemingly intensified by having children.
We live in a world that to me seems to be changing quickly and for the worse around us with societies designed to benefit the few at the cost of the many, the rich are getting richer and the poor are getting poorer.
It angers me how people are so easily led, so easily pleased and therefore open to being blinded by what they hear in the media and what they are fed by corrupt politicians.
I want my mice to be able to stand strong, determined and proud even though they are fragile and vulnerable. In the past I have tried to give my work a humorous edge; however this piece is a little more serious!
Morag Reekie.